The Tahko Pihkala (1888-1981) memorial was commissioned from Nina Sailo (1906-1998) by the Tahko Pihkala association. It was unveiled on the 100th anniversary of Pihkala's birth on January 5, 1988 on the south-east side of the Olympic Stadium, close to Tahkontie street. The work belongs to the collections of the Helsinki Art Museum.
The work depicts Pihkala in a realistic style. Pihkala was an influential sports and fitness ideologist and organizer. He developed new forms of sport and created 'pesäpallo', Finnish baseball. Pihkala's memorial depicts him orienteering, his favourite sport.
The bronze memorial is 4,5 metres high. Its pedestal contains Pihkala's name, his date of birth and death, and the quote: "Urheilun avulla kansamme parhaaksi." (With sport for the best of our people).
The memorial is based on Nina Sailo's husband-sculptor Alpo Sailo's (1877-1955) plans of Tahko Pihkala.
Lauri Tahko Pihkala – Service Map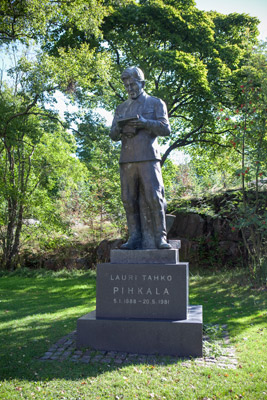 Nina Sailo: Lauri Tahko Pihkala, 1987. You may not use this photo for commercial purposes. © Photo: Helsinki Art Museum / Maija Toivanen