Väinö Tanner (1882-1966) was a central figure in the cooperative movement, worked as a journalist and was one of the most influential politicians in Finland during the period between the Civil and the Continuation Wars. As the chairman of the Social Democratic Party he opposed extremist within his own party and elsewhere in society.
Throughout the 1970s, Kari Juva's (1939-2014) work was typified by a soft plastic and skilled depiction of movement, breathing life into massive volumes. Väinö Tanner's memorial from 1985, however, represents completely different ideals: although movement is still the basis, it is not created by plasticity but by composition. Depending on the point of view, the figures, bowling-pin-like, have either already passed the gate already or are going through it at the very moment. This to-and-from movement, combined with the heavy figures and the massive gate, create a strong sense of dignity which is, however, shadowed by an oppressive atmosphere.
The figure gazing towards Hämeentie can be understood as the leader who has to coerce the others to turn around and follow, or as the rearguard, still turning back to the past after the others have already gone.
The work is cast in bronze and set onto a red-granite pedestal. It was unveiled on March 12, 1985. The work belongs to the collections of the Helsinki Art Museum.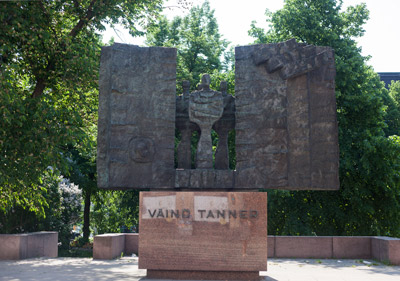 Kari Juva: Tanner's Gate, 1985. You may not use this photo for commercial purposes. © Photo: Helsinki Art Museum / Maija Toivanen