Thalia ja Pegasos / Thalia and Pegasos
In `Thalia and Pegasos', placed in front of the City Theatre, Kari Juva's (1939-2014) skill in uniting mass and the lightness of movement into a seamless one is in good evidence. Pegasos, the inspirer of poetry, carries Thalia, the muse of comedy, on its back, carrying the viewer away in a wild gallop.
The work was erected in 1970 and it is cast in bronze. The work belongs to the collections of the Helsinki Art Museum.
Thalia ja Pegasos / Thalia and Pegasos – Service Map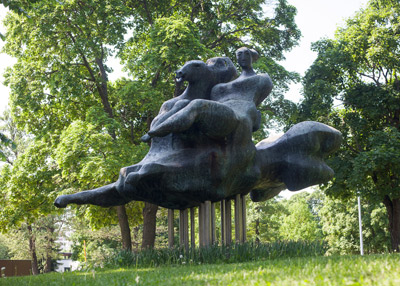 Kari Juva: Thalia and Pegasos, 1970. You may not use this photo for commercial purposes. © Photo: Helsinki Art Museum / Maija Toivanen