Tiedon tasot / Levels of Knowledge
The housing association situated at Lönnrotinkatu 11 decided to take part in an initiative organised by the City to improve urban areas for the Helsinki Cultural Year. In the same year the house celebrated it's 25th anniversary. Sculptor Erkki Kannosto was commissioned to create a work on the outside wall of the building which reflected the three cultural organisations housed in the building: the Finnish Newspaper Union, the Union for Magazines and Periodicals and the Finnish publishing corporation.
The relief portrays three young people. There are two standing next to each other on the upper part of the relief, one of them is a girl in an orange dress who is reading a newspaper. The boy next to her is dressed in blue jeans and a yellow t-shirt and is reading a book. The other boy, wearing green trousers and an orange waistcoat and who is leaning against the yellow bike, is reading a magazine. The relief is created from welded scrap iron.
Kannosto developed a hand-crafted technique for scrap iron in the 1990s which aimed at creating sculptural works with an as-close-as-possible resemblance to 3-dimensional drawings. The characters of Levels of Knowledge are created from cut and welded scrap iron, which has been sand-blown, heat-treated and finally coated with epoxy in various colours.
The slightly humourous-looking characters in this work are similar to characters portrayed in the artist's acrylic works from the 1960s. In the 1970s his works were more realist and, for the most part, made of bronze. The artist's most famous work is situated in Lahti, and is a memorial to the Red prisoners captured by the Whites during the Finnish civil war (which was part of the First World War). The work was inaugurated in 1978 and is made of bronze and granite.
The work doesn't belong to the collections of the Helsinki Art Museum.
Tiedon tasot / Levels of Knowledge – Service Map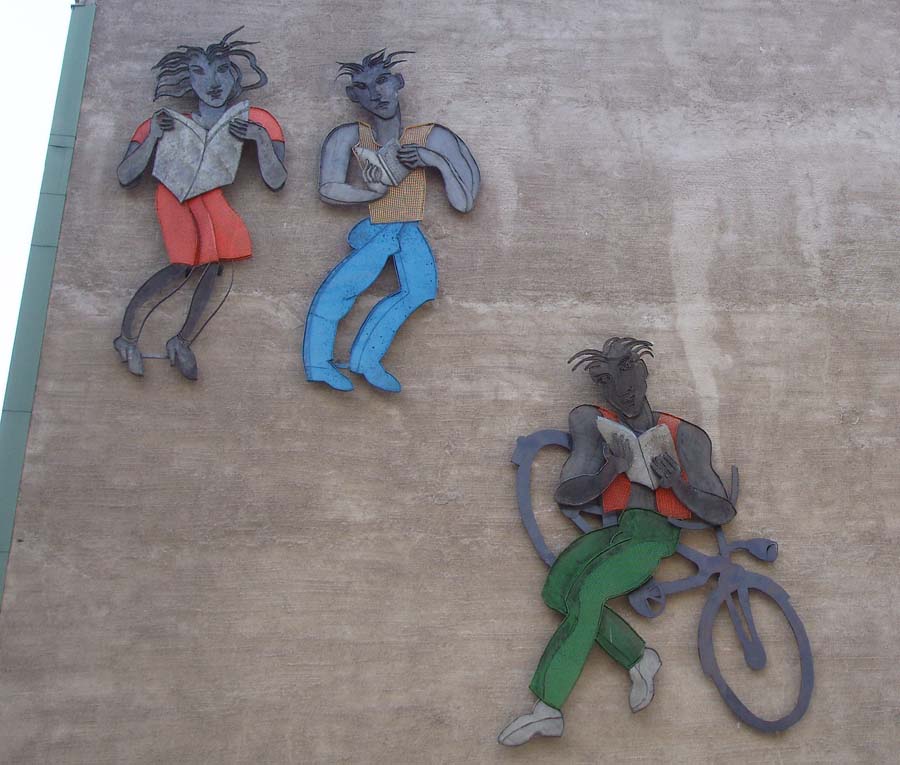 Erkki Kannosto: Levels of Knowledge (Tiedon tasot), 1997. You may not use this photo for commercial purposes. © Photo: Helsinki Art Museum