Työläinen on lähtenyt / The Worker Has Left
The Hanasaari A power plant, which became operational in 1960, was demolished in 2008 by a decision made by the City Council. An international group of young artists wanted to create a memorial for the area that would pay tribute to the work done at the power plant and to its workers.
The artists involved in the creation of this piece were Antton Mikkonen (Finland), Jumpei Shimada (Japan), Elena Alonso (Spain) and Elise Matineau (France). Plate workers Ahto Penne and Hannu Jukarainen from Helsingin Energia also participated in the production of the piece.The Worker Has Left is made of industrial materials from the former industrial plant. It was unveiled in front of the Hanasaari district heating plant along Sörnäisten Rantatie on 11 June 2009.
The work does not belong to the collections of the Helsinki Art Museum.
Työläinen on lähtenyt / The Worker Has Left – Service Map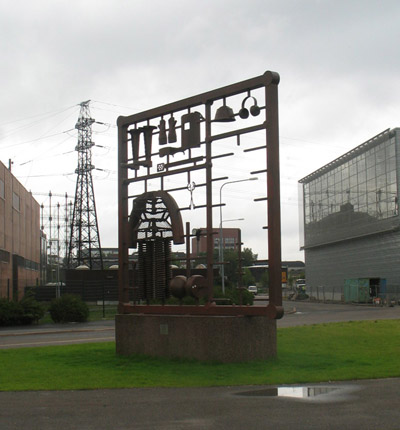 Antton Mikkonen: The Worker Has Left, 2009. You may not use this photo for commercial purposes. © Photo: Helsinki Art Museum