Memorial to the Ulrika Eleonora Church
The memorial in the Northwest corner of the Senate Square is located where the Ulrika Eleonora Church once stood. The red-granite memorial depicts the church in relief and is separated from the surrounding pavement by a darker framing.
The text: "Ulrika Eleonora kirkko/kyrkan" or "Ulrika Eleonora Church" is found below the relief. Further texts read: "Tällä paikalla oli 1727-1827 Helsingin kolmas kirkko" in Finnish, "Här stod den tredje kyrkan i Helsingfors" in Swedish, literally: "Helsinki's third church was located here in 1727-1827".
The Ulrika Eleonora Church was built during 1724-1727. It was the third church built on the square. At the time, Finland was part of the Swedish kingdom. The master builder was Anders Hakenberg who probably worked on the basis of a layout procured from Stockholm. The church was built in the form of a cross with equal-length vertical and horizontal dimensions, covered by a mansard roof. A high earth-red tower rose from the cross, ending in a lantern decorated by images of the sun and the moon. The city's Lord Mayor Abraham Wetter, who paid for the decorations in the choir, proposed that the church be named after Sweden's queen Ulrika Eleonora.
But in the early 19th century Finland became part the Russian Empire. In 1812 Helsinki was declared capital of the new autonomous Grand Duchy of Finland, and work was begun to expand the square to serve the needs of the new capital. The church, City Hall and the cemetery begun in 1640 were destroyed to make way for the monumental Neo-Classical square designed by C.L. Engel. This was the beginning of the Senate Square and Helsinki's Neo-Classical centre.
The church had suffered drastically from careless workmanship and repairs and in particular from a leaking roof. Before the church was torn down its beams were auctioned on February 27, 1827. Some were used to build the frame for the Cronholm building. Today, the almsbags of the Ulrika Eleonora Church, the angels of the pulpit and the wooden crown of the so-called King's Bench belong to the City Museum collection and are displayed at the Sederholm building just across the Senate Square (Aleksanterinkatu 16-18).
The memorial to the church was designed by Gunnar Finne, and placed in 1937.
Memorial to the Ulrika Eleonora Church – Service Map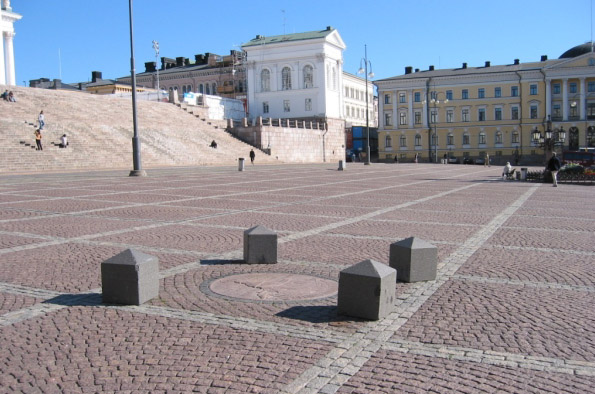 You may not use this photo for commercial purposes. © Photo: Helsinki Art Museum