Annikki Luukela's (b. 1944, Kemi) light installation Network in University of Helsinki metro station begins on the upper level of station and continues along the escalators and down to the platform level. The lighting fixtures on the walls and ceiling at the metro rails were also originally parts of the work, along with the light pyramids and the light works in glass cabinets on the platform.
In Network Luukela uses light in many forms. Employing over 100 metres of coloured neon tube, other types of lights and even holograms, The photographs in the display case on the platform depict architect Carl Ludvig Engel's classical buildings found in the centre of Helsinki.
Luukela has used light in her art since 1970. Her works typically blend art and science with technology. What fascinates Luukela in light is its intangibility. Using projections, holograms, lasers and neon lights and occasionally also sound, she creates spaces whose lights, shadows and movement integrate the spectators and their own shadows into the art. This is the case also at the University of Helsinki metro station, where the work is an integral part of the architecture and space.
The work was produced under the Percent for Art programme, and it belongs to the collection of the City of Helsinki, managed by HAM Helsinki Art Museum.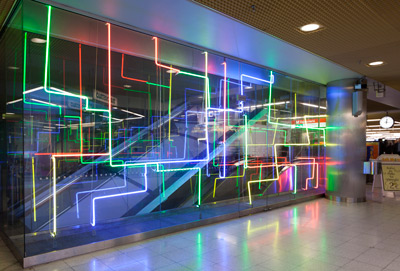 Annikki Luukela: Network, 1995. You may not use this photo for commercial purposes. © Photo: Helsinki Art Museum / Hanna Kukorelli