Yrittäjäveistos / Entrepreneurs Monument
Swedish sculptress Eva Löfdahl won the 2004 open competition organised by the Suomen yrittäjien patsassäätiö, a Finnish foundation for entrepreneurs statues, to honour and acknowledge Finnish entrepreneurs with an impressive public art work.
The work is situated at Kamppi between the new terminal and the former bus terminal building in the remaining Narinkka square in the north-east corner. The inauguration took place on 5th September 2006 in commemoration of the Day of the Finnish Entrepreneurs. The patron of the statue's conception is Matti Vanhanen, the Finnish Prime Minister.
Eva Löfdal's wired structure work is made of aluminium and it's solid geometry represents the quasi-pattern construction concepted in 1973 by the mathematical physicist Roger Penrose, which is known today as Penrose tiling. The aluminium parts are in various open-cut forms whose exterior surface are constructed in 2 to 17 mm wide surfaces. The aluminium has a thin yellowish surface colour.The wired structure is ca. 6 metres in height. Inside the structure is a porous lava block prepared from special concrete reminiscent of black 'stone', which was was planned and prepared by the sculptor and concrete expert, Pertti Kukkonen. The black stone measures ca. 70 x 70 x 130 cm and on it's underside shines an intensive light.
The work belongs to the collections of the Helsinki Art Museum.
Yrittäjäveistos / Entrepreneurs Monument – Service Map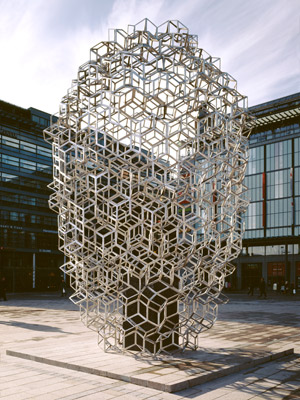 Eva Löfdahl: Entrepreneurs Monument, 2006. You may not use this photo for commercial purposes. © Photo: Helsinki Art Museum / Yehia Eweis